The 2022/23 league campaigns in Germany, England and Portugal will all come to an end across the forthcoming weekend (27-28th May), and here at Premier Bet we have enhanced our Win Bonus offer to all customers for one weekend only!
On the Bundesliga and Primeira Liga – which both conclude on Saturday – we are offering a 40% Win Bonus when you bet on all nine matches in each league, while we are giving a 50% Win Bonus when you bet on all 10 matches simultaneously taking place in the Premier League on Sunday.
Read on for all of the key permutations and fixtures heading into the final day!
BUNDESLIGA (Saturday 27th May, 14:30 GMT+1)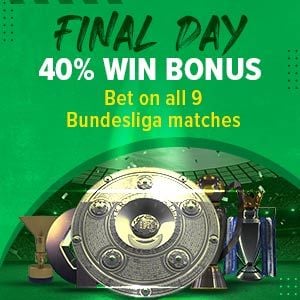 Bayern Munich's decade-long dominance in Germany could be set to come an end on Saturday, after Thomas Tuchel's side squandered their lead at the summit by losing 3-1 at home to DFB-Pokal finalists RB Leipzig last weekend.
Borussia Dortmund duly played their part by defeating Augsburg 3-0 to move two points clear, but their inferior goal difference means they require all three points at home against Mainz 05 to be certain of lifting the German title for the first time since 2012.
Towards the bottom of the table, Schalke 04, VfL Bochum, Stuttgart and Augsburg are all fighting to avoid relegation, with Schalke appearing to be the likeliest candidate to join Hertha Berlin in succumbing to automatic relegation given that they travel to third-placed Leipzig.
PRIMEIRA LIGA (Friday 26th May & Saturday 27th May)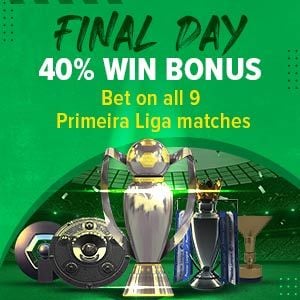 Portugal's final matchday is being spread across numerous kick-off times on Friday and Saturday, but all eyes will be drawn to Benfica and Porto's home matches against Santa Clara and Vitoria SC respectively (Saturday 18:00 GMT+1).
Benfica hold a two-point lead over the reigning champions at the top of the table, so they will reclaim the Portuguese title for the first time since 2019 should they hold their nerve and defeat Santa Clara – who have already been relegated – at Estadio da Luz.
However, Porto hold the superior head-to-head record between the two teams, so they would retain their crown if they win and Benfica do not.
PREMIER LEAGUE (Sunday 28th May, 16:30 GMT+1)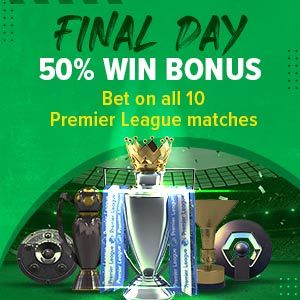 In the Premier League, relegation is the last of the pivotal matters to be wrapped up, with Everton's destiny in their own hands when taking on Bournemouth at Goodison Park.
The Toffees know that, if they win, their all-time record of 120 seasons competing in England's top flight will be maintained for yet another campaign. However, should they drop points, the door will become ajar for either Leicester City or Leeds United – who host West Ham United and Tottenham Hotspur respectively – to survive with a victory.
Elsewhere, Aston Villa and Tottenham are still competing to qualify for the Europa Conference League. The Villains are hosting Brighton & Hove Albion, who qualified for Europe for the first time in their history by claiming a point against champions Manchester City on Wednesday.