Lionel Messi was formally unveiled at his new club Inter Miami on Sunday, with a sold-out crowd of around 20,000 fans enduring Fort Lauderdale's intense storm to welcome their new superstar.
The former Barcelona and Paris Saint-Germain forward, who finally achieved his dreams of lifting the World Cup with Argentina in December last year, has signed a contract that will run through to the 2025 season.
On the pitch, the 36-year-old's Inter Miami journey will begin against Mexican side Cruz Azul in the Leagues Cup on Saturday 22nd July, before the regular MLS season resumes in August.
In celebration of Messi's debut, Premier Bet will be running a special Goals Giveaway promotion, where you can win a free bet / bonus for every goal that he scores against Cruz Azul. All you need to do is place a bet with a minimum stake on the match.
Click here to read more once our promotion page is live. Terms & Conditions apply, and please gamble responsibly.
Messi enjoyed more than a taste of home during his glitzy welcoming ceremony, as he was joined by his compatriot Gerardo Martino – who managed Messi at Barcelona and Argentina, and will do so once again after succeeding Phil Neville as head coach last month – and his former Barcelona team-mate Sergio Busquets.
"I'm sure we're going to have many wonderful experiences," Messi told the crowd. "I'm very much moved to be here in Miami, to be with you. I want to thank you all, on behalf of my family, for the kindness that you have given me."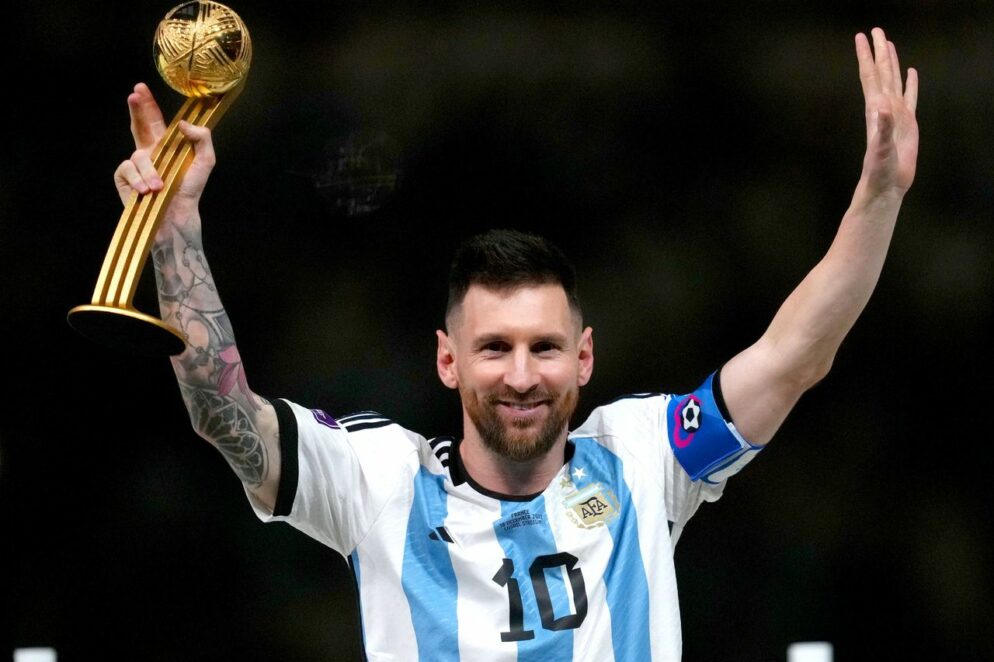 As was often the case in Catalonia, where they won three Champions League titles together, Busquets was the unassuming accomplice to Messi's magical presence. Martino will be hoping the pair can re-ignite their telepathic connection on the pitch, with Jordi Alba also set to join them.
Given that the club's co-owner and president being a certain David Beckham, it would be difficult for anyone to receive prominence alongside two of the most recognisable sportsmen on the planet.
"Tonight is a typical Miami welcome for one of the greatest players to ever have played the game," Beckham gleefully said. "The fact that we have our fans in here, celebrating this moment… this is what we have created and we're very proud of that."
With this being Messi, it was no surprise to see the Argentine's great rival Cristiano Ronaldo throw himself into the spotlight, with the former Real Madrid star throwing some shade by declaring that "the Saudi league is better than the MLS."
Ronaldo became one of the first of many high-profile footballers to head to Saudi Arabia when joining Al Nassr earlier this year, but Messi has chosen his own path, and it is one that we will follow with great interest in the long-term.
For now, keep your eyes peeled for our upcoming Goals Giveaway offer, and celebrate every time Messi scores on Saturday!
Looking for something else to bet on? Premier Bet are providing the summer vibes with our Club Friendly promotion, where you can win a free bet / bonus every single day by betting on pre-season matches.